This preview shows page 1. Sign up to view the full content.
View Full Document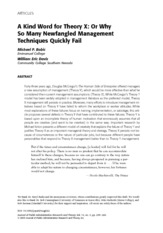 This is the end of the preview.
Sign up
to access the rest of the document.
Unformatted text preview: onger defines "creativity" simply as "innovation." Moreover, even with a plethora of Theory Y–based management methods and approaches, recent scholarship points out the lack of measurable improvement in job performance, satisfaction, or quality (Staw and Epstein 2000; Fernando 2001). Despite the almost universal belief that Theory Y assumptions are superior to Theory X assumptions (McGregor 1960, 49, 245; Tausky 1992, 4), Theory X assumptions still prevail in the workplace (Collins 1996) and some management students still prefer those assumptions to Theory Y assumptions (Weinstein 2001). This article argues that Theory X methods persist because the view of human nature found in Theory Y is incomplete. Managers surmise that, in many cases, the view of human nature in Theory X reflects the realities of modern workers more accurately. This article offers a theoretical justification for that intuition. To do so, it is first necessary to review the historical context in which McGregor developed Theory Y. That history will explain why Theory Y's view of human nature is incomplete. Given the fundamental changes in our understanding of personality and motivation theory and the dramatic changes in the economy, it is time to reevaluate McGregor's theory. THE FOUNDATION OF THEORY Y The Work Environment McGregor's research occurred from the mid-1930s until the mid-1950s. The Great Depression, World War II, and the cold war represented an exceptional time in American economic history, a time in which many new employees entered the workforce as the United States demobilized and scaled down its standing army (Faulkner and Kepner 1950; Bailyn et al. Bobic and Davis A Kind Word for Theory X 1981, 873). Soldiers returned to the home front to seek jobs, housing, and the like. Moreover, the mid-1950s brought a tremendous growth of industry, the interstate highway system, and a substantial rise in the number of middle-class families (Bailyn et al. 1981). With a strong economy and such new benefits as Social Security, the GI Bill, and other entitlement programs, most Americans settled into regular work patterns that they anticipated wou...
View Full Document
This document was uploaded on 01/22/2014.