This preview shows page 1. Sign up to view the full content.
View Full Document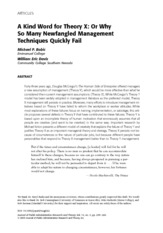 This is the end of the preview.
Sign up
to access the rest of the document.
Unformatted text preview: tor Skills 74, no. 2:491–97. Foxall, Gordon R., and Adrian Payne. 1989. Adapters and innovators in organizations: A cross-cultural study of the cognitive styles of managerial functions and subfunctions. Human Relations 42, no. 7:639– 49. Bobic and Davis A Kind Word for Theory X Foxall, Gordon R., Adrian F. Payne, and Deborah A. Walters. 1992. Adaptive-innovative cognitive styles of Australian managers. Australian-Psychologist 27, no. 2:118–22. Furnham, Adrian. 1990. Faking personality questionnaires: Fabricating different profiles for different purposes. Current Psychology Research and Reviews 9, no. 1:46–55. Gabor, Andrea. 2000. The capitalist philosophers. New York: Times Business. Goble, Frank. 1970. The third force: The psychology of Abraham Maslow. New York: Pocket. Goldsmith, Ronald E. 1984. Personality characteristics associated with adaption-innovation. Journal of Psychology 117, no. 2:159–65. ———. 1985. Adaption-innovation and cognitive complexity. Journal of Psychology 119, no. 5:461–67. ———. 1986a. Convergent validity of four innovativeness scales. Educational and Psychological Measurement 46, no. 1:81–87. ———. 1986b. Personality and adaptive-innovative problem solving. Journal of Social Behavior and Personality 1, no. 1:95–106. ———. 1987. Creative level and creative style. British-Journal-of-Social-Psychology 26, no. 4:317–23. Goldsmith, Ronald E., and Timothy Matherly. 1986. The Kirton Adaption-Innovation Inventory, faking, and social desirability: A replication and extension. Psychological Reports 58, no. 1:269–70. Groves, David L., Harvey Kahalas, and David L. Erickson. 1975. A suggested modification of Maslow's needs hierarchy. Social Behavior and Personality 3, no. 1:65–68. Hamermesh, Daniel S. 2001. The changing distribution of job satisfaction. Journal of Human Resources 36:1–30. Hammond, Sean M. 1986. Some pitfalls in the use of factor scores: The case of the Kirton AdaptionInnovation Inventory....
View Full Document
This document was uploaded on 01/22/2014.