This preview shows page 1. Sign up to view the full content.
View Full Document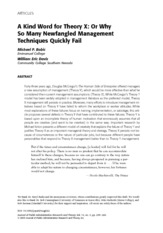 This is the end of the preview.
Sign up
to access the rest of the document.
Unformatted text preview: then where one is on the hierarchy of needs is irrelevant. Kirton and Hammond (1980) demonstrated that adapters were as likely to be self-actualized as innovators, which contradicted most of Maslow's definitions of self-actualizers and self-actualization. Second, if Kirton was correct, then McGregor's assumption that managers can change their assumptions (1960, 46, 245) may not be possible for most managers. Third, research by Kirton (1984) and Bobic, Davis, and Cunningham (1999) contradicted McGregor's assertion that changing one's assumptions will lead to changed behavior (1960, 48, 62 and the following pages; 1967, 79). McGregor assumed that all people are innovative, but Kirton's studies indicated that adaptive personalities tend to dominate certain occupations. Using an inventory to assess the tendency of a respondent to use adaptive or innovative approaches to problem solving, Kirton discovered that first-line supervisors such as manufacturing or plant managers, accounts supervisors, machinist superintendents, and the like tended to be adaptive in their approaches to problems (Kirton 1985a). Secondary managers, personnel managers, and "upper managers" tended toward the innovative approach to problem solving (Kirton 1985a). What would McGregor have thought of this work? He would most likely have disagreed deeply with the idea that types of creativity are ingrained in people. He would have accepted the importance of building teams whose members had complementary creative styles. Nonetheless, Kirton and McGregor agreed on several points. First, they agreed that management is a complex social interaction, not a simple mechanical process (see McGregor 1960, 105). Second, they agreed that people do bring assumptions about human behavior to the management task. They agreed that managers must consider the natures of the people they manage. In the end, had McGregor lived to see Kirton's work, we believe he would have incorporated Kirton's findings into his own research. He hinted at such when he noted that "one of management's major tasks . . . is to provide a heterogeneous supply of human resources from which individuals can be selected to fill a variety of specific but u...
View Full Document
This document was uploaded on 01/22/2014.