This preview shows page 1. Sign up to view the full content.
View Full Document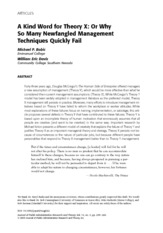 This is the end of the preview.
Sign up
to access the rest of the document.
Unformatted text preview: s 1998). The youngest employees in the sample (those who were in college) had already had more jobs (a mean of five) than most retirees in the sample had held in a lifetime of work (an average of four and a half) (Hart and Associates 1998). Employees today engage in a "constant" search for new jobs, even if they are satisfied with their current positions; they "remain plugged into the job market—even if they are not actively searching for a job" (PRN News Service [PRN] 2001). This clearly contrasts with McGregor's assumption that careers would exist largely within the same company: "With the modern emphasis on career employment and promotion from within, management must pay more than casual attention to its recruitment practices" (1960, 186). Workers no longer express loyalty to their place of employment, and they believe that their employers have little loyalty to them (Camp 1995; Ciulla 2000). Of the Shell survey respondents, 65 percent believed employees were "only slightly" loyal or "not too loyal" to their employers. Forty-eight percent of the Shell respondents indicated that if their employer wanted to transfer them to a different city, they would quit and find another job in the same city. The survey also found that most employees believe that companies are not very loyal to their employees: fully 75 percent of respondents said companies were either somewhat loyal or not loyal at all. Camp (1995) found that decreased loyalty to a company (in the case of Camp's study, decreased loyalty among prison workers) correlated strongly with high turnover among employees. He concluded that employees begin to seek other occupations as institutional commitment declines. Job Security Workers also demonstrate far less security in their prospects for continued employment at any given company than they did in the 1960s and 1970s (Schmidt 1999; Valetta 1999). Using data from the General Social Survey (1976–1997) and the Displaced Workers' Survey (1982–1996), Schmidt (...
View Full Document
This document was uploaded on 01/22/2014.