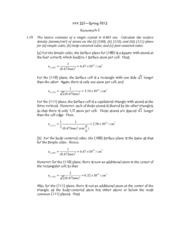 This is the end of the preview.
Sign up
to access the rest of the document.
Unformatted text preview: Thus, For the (110) plane, the surface cell is a rectangle with one side 2 longer than the other. Again, there is only one atom per cell, and For the (111) plane, the surface cell is a equilateral triangle with atoms at the three vertices. However, each of these atoms is shared by six other triangles, so that there is only 1/2 atom per cell. These atoms are spaced 2 longer than the cell edge. Then, (b) For the body- centered cubic, the (100) surface plane is the same as that for the simple cubic. Hence, However, for the (110) plane, th...
View Full Document
This document was uploaded on 01/28/2014.