This preview shows page 1. Sign up to view the full content.
View Full Document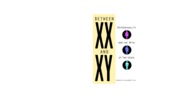 This is the end of the preview.
Sign up
to access the rest of the document.
Unformatted text preview: ere is a virtual cornucopia of Sex Versus Reproduction 43 sexual activities. For example, dalliances are also common between two females. In this interaction, one female lifts the other into her arms and carries her like she might a child. Arranged like this, the two females can and do rub their clitorises together with exactly the same frequency that males thrust into females during copulation. Scientists who study bonobos call this genito-genital rubbing, or GG rubbing, and among the apes, only bonobos do it, and they do it a lot. Other times, two female bonobos will face opposite directions, one lying on her back with her legs spread, the other backing up to her and squatting until their genitals make contact, and then they stimulate one another with sideways movements of the genitalia. Not to be outdone, males engage in similar sorts of contact. Both males remain on all fours and back up against one another until their rumps and their scrota come together. This action, called rump-rump contact, is usually brief, but clearly pleasant for both partners. Males also have sex facing one another. One of the partners lies on his back, and the other, usually older, partner straddles him until their penises come together. Both males have erections, and the older one thrusts his penis rhythmically against the other male's penis. De Waal says that he has never seen either of the males in this sort of interaction achieve orgasm. Nor has he ever seen any attempt at anal intercourse. Others have also described "penis fencing" between male bonobos— a much more rarely observed activity in which two males hang from a tree branch facing one another and rub their erect penises together like fencing swords. These activities are not restricted to adults. Juvenile bonobos also often participate. De Waal describes one infant female who would often jump on top of adults engaged in intercourse, sometimes press her genitalia against her mother's while her mother was engaged in GG rubbing with another adult female, and would climb on top of adolescent males and press herself against their penises. The males would usually respond with a few thrusts but no penetration or orgasm. Bonobos also kiss, face-to-face, open-mouthed, tongues fully entwined. Chimpanzee kisses, on the other hand, tend to be rather perfunctory in nature. Chimpanzees never French kiss. According to 44 Between XX and XY de Waal, "this explains why a new zoo keeper [at the San Diego Zoo] familiar with chimpanzees once accepted a kiss from a bonobo. Was he taken aback when he suddenly felt the ape's tongue inside his mouth!" Bonobos have a fondness for fellatio—one male taking the erect penis of another into his mouth to provide pleasure. Fellatio happens frequently during juvenile play among male bonobos. Masturbation also plays a big role in bonobos' lives—both solitary masturbation and masturbation with partners. Often a young male will present his erect penis to an adult male who will "loosely close his hand around the shaft, making caressing up-and-down movements." In addition, both sexes engage in solitary masturbation. The most regular participants are young males and adult females. Here again, it would seem that Desmond Morris's claims for the supremacy of human sex and for the sole female orgasm of all the species in the world rings hollow. For, as de Waal asks, why would female bonobos masturbate if not for pleasure? Beyond that, studies by de Waal and others show that physiology and behavior of female bonobos during intercourse and masturbation are consistent with orgasms.5 Sex Before Surrender But there is more to bonobo sex than play and pleasure. For most primates, life is competition, and the outcomes of their competitions often determine the length and quality of primates' lives. One of the most routine of these competitions involves the fight for food. Who gets to eat first, and who gets the most food? Often physical violence or the threat of physical violence—dominance of one ape over another—resolves these food issues. Bonobos, however, seem to have found another way. According to de Waal, when zookeepers approach bonobos with food, the males sprout erections. And before the food even hits the floor of their enclosure, the bonobos start thinking about sex. Males engage females, females seduce males, other females are GG rubbing, and a near orgy ensues. No one fully understands why bonobos exhibit this sexual frenzy, but experts like de Waal have suggested some possibilities. He suggests that, in this instance, sex eases social tension and is a Sex Versus Reproduction 45 surrogate for confrontation and fighting, which, as he points out, is not unheard of in other species, including humans. Competition for food is not the only conflict that triggers bonobo sex. An encounter with a cardboard box or even a simple unexpected piece of rope may be enough. When two bonobos spot the box or rope, a little lovemaking or GG rubbing often precedes exploration of the item itself. And bonobo females sometimes tra...
View Full Document
This document was uploaded on 02/04/2014.