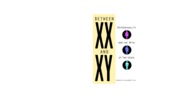 This is the end of the preview.
Sign up
to access the rest of the document.
Unformatted text preview: ificate and which is the closer to correct of the two, but I was tempted to fill in both squares. It would have been interesting to add the question, 'Are you talking chromosomes or appearance?'" Nicky offers. When Nicky was born in 1943, the doctors told her parents that she was a girl, but there was a slight problem. Nicky, they said, had a double hernia that they would have to repair in the near future. In 1943, essentially nothing was known about fetal sexual development and the world of possibilities that it offered. No one, I believe, suspected that Nicky's apparent hernias were actually partially descended testicles. So eighteen months after she was born, when the doctor found something he didn't expect in Nicky's "hernias," something he imagined to be ovarian tissue, he simply placed the tissue where he thought it 106 Between XX and XY belonged, back in her abdominal cavity, repaired what looked a little like a pair of hernias, and stitched her up. Adolescence was a difficult period for me. . . . At sixteen, I was told that I had been born without a uterus and that I would not be able to have children. When other girls at school would discuss their periods, I became silent. One of my worst experiences in high school occurred when my PE teacher said that we would all have to shower together in the "gang showers." One of the characteristics of AIS [androgen insensitivity syndrome] is an absence of secondary hair. I was mortified that my classmates would see that I had no pubic hair. As it turned out, another girl and I were the last ones to complete a PE exercise and we were able to get into the private showers. The other girls tried to peek in, but I was able to keep facing the shower heads until they left. This episode didn't enhance my popularity at school. Most of us can only imagine what Nicky went through—the confusion, the shame, the fear about what seemed so out of the ordinary, so abnormal compared to all of her friends. And it would be nine more years before Nicky would pull together all the pieces of her story and begin to understand what was taking place inside of her body. Before enrolling in college, Nicky had to undergo a physical exam with her family doctor. That doctor told Nicky that her vagina was shorter than normal. He didn't mention any problems that might create during attempts at sexual intercourse. But Nicky and her boyfriend were already experimenting with sex, and she had discovered on her own that sex for her seemed to be a somewhat different experience than it was for others. It took a visit to a second physician to find out that vaginal reconstruction, or vaginoplasty, was a possibility. This second general practitioner referred Nicky to a gynecologist. That referral would change the rest of Nicky's life. Then twenty-five years old, Nicky was about to uncover the final clues about herself. The gynecologist told Nicky that she had a condition called "testicular feminization," which is another Where Our Sexes Come From 107 name for androgen insensitivity syndrome and was the only name for this condition until the roles of androgens and their receptors became known. Androgen insensitivity syndrome may be partial or complete. Partial androgen insensitivity syndrome comes in lots of different forms, each of which comes with its own particular set of changes. Because Nicky had fully female genitalia, she had what is now known as complete androgen insensitivity syndrome. As many as 1 in 20,000 babies born every year have complete androgen insensitivity syndrome. In the United States, that's about two hundred babies and about twelve hundred worldwide every year. Nicky's gynecologist suggested a vaginoplasty to enlarge her vaginal canal, and he made one other suggestion. Along with the plastic surgery, he thought it might be a good idea to perform an exploratory laparotomy to see if Nicky still had any gonads in her abdominal cavity and, if so, whether those gonads were testes or ovaries. During the laparotomy, Nicky's doctor found what he had imagined he would find—a pair of testes. He removed the testes and remodeled Nicky's vagina. "I did not realize, then, how fortunate I was to have been referred to that particular gynecologist," says Nicky. "It seems that the conventional wisdom of the time was not to tell patients that they had male chromosomes for fear that the information would cause them to lose their sanity. Many people with AIS with whom I have come in contact searched for years until they got a diagnosis." Another woman with complete androgen insensitivity told me that at age fifteen, her parents and her doctor told her she had to have her "cancerous" ovaries removed. In fact, she was having an orchidectomy— the doctor was removing her testes. For years afterward this woman had serious (and groundless) fears about cancer, but no one would tell her the truth. Years later, and then only by accident, this woman finally discovered the truth about herself. Nicky's experience was better than some. She notes, "On the whole,...
View Full Document
This document was uploaded on 02/04/2014.