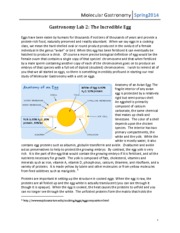 This is the end of the preview.
Sign up
to access the rest of the document.
Unformatted text preview: ain liquid from the beets into saucepan. Place beets, onions, and eggs into a large bowl or pitcher. 2. Pour sugar and vinegar into the saucepan with the beet liquid and bring the mixture to a boil. Reduce the heat to low, and let the mixture simmer 15 minutes. 3. Pour the beet juice mixture over the beets, eggs, and onions. Seal the bowl or pitcher and refrigerate. Refrigerate for at least one to 3 days; the longer they are allowed to sit the better they will taste. EXPERIMENT A- 3 THE EMPEROR'S EGG (It's shell is missing) This egg has been soaked in acid for 17 days to dissolve the eggshell that protects the egg. What do you see? 4 Molecular Gastronomy Spring2014 PART B: THE CULINARY CHALLENGE In this part of the lab each group will be asked to choose one of four baskets. In each basket will be the assignment for one of the four egg recipes noted below. Your task as a group will be to accomplish the goal of scrambled, poached, sunny- side up, or soft- boiled egg in the 30 minutes allotted for this section. Since the groups are assigned randomly (I.e. a blind choice by one of your team members) it is in your own interest to read ALL of the instructions that follow BEFORE coming to lab. At the end of the 30 minutes, each group will present the dish to the lab for tasting as time allows. EXPERIMENT B- 1. SUNNYSIDE UP (perfectly white with edges a bit crispy, yolk creamy and a bit runny) INGREDIENTS • four eggs cracked two each into two small bowls. • 2 t vegetable oil • 2 t butter (cold) cut into four pieces • salt and pepper • breakfast meat – bacon • 2 English muffins INSTRUCTIONS 1. Use cold eggs in which yolks are more difficult to break, cracking two eggs into each of two little bowls helps in the delivery. Add salt and pepper. 2. Add 2 teaspoons vegetable oil to 12 inch skillet and heat to medium high (3.5). After 3 minutes, add butter and swirl butter to melt and mix and coat skillet. 3. Carefully add eggs and immediately cover skillet. Let sit on the heat for one minute and remove from heat. Use the timer. 4. Finish cooking off the heat with lid on (15 seconds to 2 minutes depending on the desired runniness of yolk). 5. When checking the eggs for doneness, lift the...
View Full Document
This document was uploaded on 02/20/2014 for the course CHEM 100 at Amherst College.