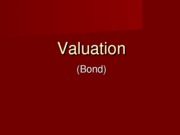 This is the end of the preview.
Sign up
to access the rest of the document.
Unformatted text preview: nventory, buildings and other tangible assets that can be sold assuming that the company is completely liquidated. However, HSBC's going­concern value could very well be $60 million, as the company's reputation of being the world's leading bank and its ownership of patents and associated rights for product/services mean that the company should have a large steady stream of future cash flows. 12 12 Types of Valuation Liquidation value is the amount of money that a firm would realize by selling its assets and paying off its liabilities. A firm's assets are generally worth more as a going concern than they are worth separately. Liquidation value is the likely price of an asset when it is allowed insufficient time to sell on the open market, thereby reducing its exposure to potential buyers. Liquidation value is typically lower than fair market value. Unlike cash or securities, certain illiquid assets, like real estate, often require a period of several months in order to obtain their fair market value in a sale, and will generally sell for a significantly lower price if a sa...
View Full Document
This note was uploaded on 02/11/2014 for the course FIN 102 taught by Professor Han during the Fall '11 term at Kazakhstan Institute of Management, Economics and Strategic Research.