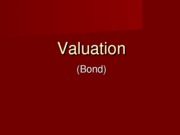 This is the end of the preview.
Sign up
to access the rest of the document.
Unformatted text preview: urchase at the sinking fund price (whereas call provisions generally allow the company to repurchase the entire issue at its discretion). a sinking fund provision makes a bond issue simultaneously more attractive to an investor (through the decreased risk of default at maturity) and less attractive (through the repurchase risk associated with the sinking fund price). If interest rates fall and bond prices rise, a firm will benefit from the sinking fund provision that enables it to repurchase its bonds at below­market prices. Investors should review the details of a sinking fund provision in a bond's indenture and determine their own preferences before investing their money into any corporate bond. 45 45 Characteristics of Bond Conversion rights A conversion right stated in the body of the indenture that allows the bondholder the right to convert the bond into a specified number of shares of common stock (of the same company) at a predetermined fixed price. Such bonds, called convertible bonds, typically have a lower coupon rate than no...
View Full Document
This note was uploaded on 02/11/2014 for the course FIN 102 taught by Professor Han during the Fall '11 term at Kazakhstan Institute of Management, Economics and Strategic Research.