This preview shows page 1. Sign up to view the full content.
View Full Document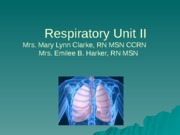 This is the end of the preview.
Sign up
to access the rest of the document.
Unformatted text preview: ess, cough, hard to catch their breath u Results: AIRWAY OBSTRUCTION u Manifestations of Asthma Asthma http://media.atitesting.com/RM/01_AMS/Media_01/RM_AMS_CH22_asthmatic_lung_changes/index.htm l Triggers to Asthma u Genetics u Obesity u Allergens u Exercise u Air Pollutants u Nose and Sinus Problems u Psychologic Factors u Occupational Factors u Respiratory Infections u Drug & Food Additives u GERD Asthma Presentation u Presentation: – – – – – – – – – – – – Wheezing Breathlessness Chest Tightness Cough Tachypnea Use of accessory muscles Sitting upright Restlessness Anxiety Trouble speaking Decreased breath sounds Silent chest 4 Classifications of Asthma u Step 1­Mild Intermittent ­ no more than twice a week u Step 2­Mild Persistent ­ < QD but > twice a week u Step 3­ Moderate persistent ­ daily symptoms u Step 4­Severe Persistent ­continuous with frequent exacerbations & limit quality of life Complications of Asthma u Status Asthmaticus – – – **Life threatening asthma attack b/c unresponsive to common treatment Dyspnea at rest, speaks in words only, usually sitting forward, RR>30 bpm, HR >120 bpm, use of accessory muscles, agitation As it progresses, no wheezing is heard, bradycardia and impending respiratory failure Diagnosing Asthma u History & Physical examination u Peak Flow Variability or Spirometry u Pulmonary Function Tests(PFT's) u Chest X Ray u u Nursing Care of Patients with Asthma Assessment Education – Avoid triggers – Avoid Aspirin, NSAIDS & Beta Blockers – Use of inhalers/nebulizers – Smoking Cessation u Apply O2 as prescribed u High Fowler's Position = 40 degrees u Keep patient calm u Initiate/maintain IV access u Monitor FEFR daily at home­­­red/yellow/green zone u Drug Therapy Asthma Drug Therapy u Long Term Control Medications u Antiinflammatory Drugs – – Corticosteroids (PO or inhaled) Cromolyn (Intal) & Nedocromil ( Tilade) – Leukotriene modifiers – Omalizumab (Xolair) u Quick Relief Medications u Antiinflammatory Drugs – u Bronchodilators – u Bronchodilators – – Long­Acting Inhaled Beta 2­ adrenergic agonists Long­Acting oral Beta 2 adrenergic Corticosteroids (systemic) (3­ 10 days) Short­Acting inhaled Beta 2 adrenergic agonist (Albuterol) Anticholinergics (inhaled) (Atrovent) – Table 29­6 p 596 Drugs u Antiinflammatory – Corticosteroids—rinse mouth after use to decrease risk of oral candidiasis; ___________________are helpful to get more drugs to lungs u Fluticasone (Flovent) MDI, DPI u Budesonide (Pulmicort Turbuhaler) DPI – Leukotriene Modifiers­given orally only, used maintenance therapy, not acute asthma attacks u Montelukast (Singulair) – Anti­IgE u Omalizumab (Xolair) u Bronchodilators – Drugs Beta 2 Adrenergic Agonist u Long Acting­ should not be used as the 1st medicine to tx asthma, don't use for sudden wheezing that is getting worse – – Salmeterol (Serevent) DPI Formoterol (Foradil) DPI u Short Acting—us...
View Full Document
This document was uploaded on 03/05/2014 for the course NURS 301 at Liberty University Duplicate.