This preview shows page 1. Sign up to view the full content.
View Full Document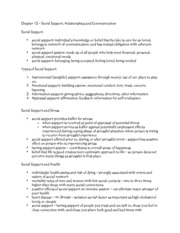 This is the end of the preview.
Sign up
to access the rest of the document.
Unformatted text preview: to better communication – leads to better understanding and better relationships • when we actively try to understand other people, respecting their frame of reference and uniqueness, we give them freedom to say what they really think and feel – affirms them and fosters relationship • try to listen to more than the words the other person is saying – striving to discern what he/she is feeling • four stages: 1. Mimic content of communication – repeat exactly what is said 2. Rephrase content – put meaning into your own words 3. Reflect feeling – listen and look to nature of emotion behind communication, observing non- verbal communication 4. Rephrase content and reflect feeling – put both the other's verbal meaning and emotional content in your own words • empathic listening not appropriate in all circumstances o most effective when interaction has strong emotional component, when we are not sure we understand, and when we are not sure the other person feels confident we understand Listening • tips for becoming better listener: o listen more, talk less o suspend judgment o look for interesting aspects of o...
View Full Document
This test prep was uploaded on 03/03/2014 for the course FRHD 1100 taught by Professor Pitman during the Fall '13 term at University of Guelph.