This preview shows page 1. Sign up to view the full content.
View Full Document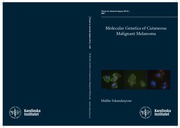 This is the end of the preview.
Sign up
to access the rest of the document.
Unformatted text preview: rs Eklöf, For your information, recommendations, suggestions in computer field. When I joined to the department, you suggested me to be a "Mac Person" I guess that means I am your friend! Evi Gustavaon-Kadaka For always being so helpful with Lodak and other PhD related matters. And also for being so friendly, always asking about my life especially my son. I should mention Gunilla Buren as well, with her warm heart. Thank you for being so warm and friend. Having you guys at work, make CCK a pleasure work place. Feridon For all advice and discussions and his group. All friends and colleagues on 4th floor Bita, Salah, Cheya ,Bertha and her group, Pädrig, Olle Larrson and his group. Monica Nister and her group especially, Ulrika for Fibronectin and being a nice friend. Aris, Takayuki, you have been so nice and friendly to me! Good luck everywhere you are. 34 All Iranian researchers at CCK. I had a great pleasure meeting you at the department. My special thanks goes to my parents, for all your love and support. For always being with me. For stimulating my curiosity and for encouraging me to believe in myself and my ability. For your support and understanding in my decision to do PhD in Sweden. Father, Thank you for teaching me to be always optimistic and love people like yourself. Shahryar, I thank you for all your care, understanding and kindness. I got a lot experience living with you, which I never expected. I became really a mature person! Thank you for that. Armin my little son and joy! Now, I understand that you are my greatest experience. Having you is a precious gift. Thank you for letting me be your mum. These investigations were supported by The Radiumhemmet Reseach Funds, The Swedish Cancer Society, The Karolinska Institute Research Funds and The Swedish Raditation Protection Authority. 35 References 1. 2. 3. 4. 5. 6. 7. 8. 9. 10. 11. 12. 13. 14. 15. 16. 17. 18. 36 Slominski A, Wortsman J, Carlson AJ, Matsuoka LY, Balch CM, Mihm MC. Malignant melanoma. Arch Pat...
View Full Document
This document was uploaded on 03/06/2014.