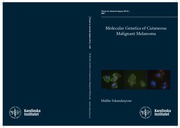 This is the end of the preview.
Sign up
to access the rest of the document.
Unformatted text preview: ed that 10q loss is an early and frequent event in melanomas. PTEN encodes a protein with extensive homology to dual specificity protein phosphatases and, like RAS, it is implicated in the pathways that control apoptosis through AKT. PTEN, is a negative regulator of the PI3K-AKT pathway. When AKT is phosphorylated, it has several activities but functions mainly to antagonize apoptosis. Several groups have shown that PTEN loss impairs apoptosis. In melanoma, allelic loss or altered expression of PTEN occurs in 20% and 40% of tumors, respectively (21, 50), although somatic point mutations and homozygous deletions are rarely observed. Functionally, ectopic expression of PTEN in PTENdeficient melanoma cells can abolish phospho-AKT activity, induce apoptosis, and suppress growth, tumorigenicity, and metastasis (51, 52). Interestingly, NRAS and PTEN appear to be mutually exclusive in melanoma suggesting, that NRAS mutations 15 and PTEN alterations may have overlapping functions in melanoma (53). BRAF mutations and PTEN alterations on the other hand, have been described to coexist in the same melanoma cell lines suggesting that BRAF activation and PTEN loss can cooperate to activate ERK and AKT in melanoma (10). c-KIT: The c-KIT gene encodes a RTK that serves as the receptor for SCF (stem cell factor). Immunohistochemical studies have linked progressive loss of c-KIT expression with the transition from benign nevi to primary and metastatic melanomas (54). A recurrent L576P mutation in c-KIT has recently been reported in melanoma. Among 153 cases examined, Willmore and colleagues identified four metastatic melanomas with robust expression of c-Kit on immunohistochemistry and three of them harbored a L576P mutation with selective loss of the normal allele. L576P is a known GIST-associated mutation that maps to the 5' juxtamembrane domain where most activating KIT mutations cluster (55, 56). In a study of 102 primary melanomas mutations and/or copy number increases of C-KIT were found in 39% of mucosal, 36% of acral, and 28% of melanomas on chronically sun-damaged skin, but not in any melanomas on skin without chronic sun damage. Seventy-nine percent of tu...
View Full Document
This document was uploaded on 03/06/2014.