This preview shows page 1. Sign up to view the full content.
View Full Document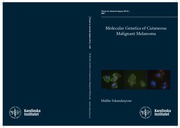 This is the end of the preview.
Sign up
to access the rest of the document.
Unformatted text preview: ing me cytology and microscope. It was exciting working on plant cell culture and callus (plant tumor) since after that I started working on human tumors. So different! so similar! Tina Dalianis, the chairman of the Department of Oncology-Pathology for creating a friendly and productive research environment at CCK. The melanoma group, It was really pleasure working with you. Many thanks for always being so nice and helpful. Doris, Eva, Marianne and Rainer, and Diana for your help and kindness. Marianne, many thank for your friendship. Doris ex-member of the group, for Immunohistochemistry helps which is not included in this thesis. Hopefully, we will have the manuscript soon. Rainer for sharing knowledge especially, in MC1R story. Braslav, Thank you for all relaxing discussions. Your character is amazing. I think you are good in psychology (better than other fields!). You do not need to write any prescriptions, one hour joke and laugh by Braslav is the best treatment! Specially, in cancer field (for both patients and researchers!). Andrew, ex-member of the group, when you were here my English skills was improving but now you can see from the text!! Thank you for your friendship and helping in paper II. Katarina and Veronica thank you for your friendship and discussions. Karin, Thank you for all paper works. Always after talking to you I feel happy, Never change! Jamile and Shuhua, the ex-members of the group, for your friendship and collaboration. Jamile you were my first introducer to the department, Thank you for that. New members of the group, Karolina , Henning, Sara and 33 Johan with full of energy, enthusiasm. With you, the group will be more dynamic, Good luck with your projects! Boel Ragnarsson and Eva Mansson from melanoma unit at Radiumhemmet, thank you for your useful presentations. You were our contacts and bridge to clinic. We should keep the bridge (with glass windows!) active. Lena Kanter, for always helping me out for pathology questions, and so friendly. It was rea...
View Full Document
This document was uploaded on 03/06/2014.