This preview shows page 1. Sign up to view the full content.
View Full Document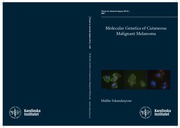 This is the end of the preview.
Sign up
to access the rest of the document.
Unformatted text preview: the growth of malignant melanoma cell lines. Oncogene 2004;23(54):8796-804. Kamb A. Cell-cycle regulators and cancer. Trends Genet 1995;11(4):136-40. Guldberg P, thor Straten P, Birck A, Ahrenkiel V, Kirkin AF, Zeuthen J. Disruption of the MMAC1/PTEN gene by deletion or mutation is a frequent event in malignant melanoma. Cancer Res 1997;57(17):3660-3. Borg A, Johannsson U, Johannsson O, Hakansson S, Westerdahl J, Masback A, et al. Novel germline p16 mutation in familial malignant melanoma in southern Sweden. Cancer Res 1996;56(11):2497-500. Platz A, Hansson J, Mansson-Brahme E, Lagerlof B, Linder S, Lundqvist E, et al. Screening of germline mutations in the CDKN2A and CDKN2B genes in Swedish families with hereditary cutaneous melanoma. J Natl Cancer Inst 1997;89(10):697-702. Hussussian CJ, Struewing JP, Goldstein AM, Higgins PA, Ally DS, Sheahan MD, et al. Germline p16 mutations in familial melanoma. Nat Genet 1994;8(1):15-21. Zuo L, Weger J, Yang Q, Goldstein AM, Tucker MA, Walker GJ, et al. Germline mutations in the p16INK4a binding domain of CDK4 in familial melanoma. Nat Genet 1996;12(1):97-9. Aitken J, Welch J, Duffy D, Milligan A, Green A, Martin N, et al. CDKN2A variants in a population-based sample of Queensland families with melanoma. J Natl Cancer Inst 1999;91(5):446-52. 39 73. 74. 75. 76. 77. 78. 79. 80. 81. 82. 83. 84. 85. 86. 87. 88. 40 Hashemi J, Bendahl PO, Sandberg T, Platz A, Linder S, Stierner U, et al. Haplotype analysis and age estimation of the 113insR CDKN2A founder mutation in Swedish melanoma families. Genes Chromosomes Cancer 2001;31(2):107-16. Bishop DT, Demenais F, Goldstein AM, Bergman W, Bishop JN, Bressac-de Paillerets B, et al. Geographical variation in the penetrance of CDKN2A mutations for melanoma. J Natl Cancer Inst 2002;94(12):894-903. Pasmant E, Laurendeau I, Heron D, Vidaud M, Vidaud D, Bieche I. Characterization of a germ-line deletion, including the entire INK4/ARF locus, in a melanoma-neural system tumor family: identification of ANRIL, an antisense noncoding RNA whose expression coclusters with ARF. Cancer Res 2007;67(8):3963-9. Pjanova D, Engele L, Randerson-Mo...
View Full Document
This document was uploaded on 03/06/2014.