This preview shows page 1. Sign up to view the full content.
View Full Document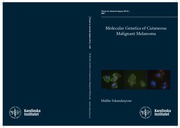 This is the end of the preview.
Sign up
to access the rest of the document.
Unformatted text preview: lly pleasure working with you. Lots of thanks to the friends and colleagues on 3rd floor, present and past. Thanks for being such nice people. For the lunches and sharing everyday life moments. Lar Holmgren, Mimi Shoshan, Dan Grander, Arne Östman and their groups for shearing knowledge and reagents. Mira, Tanya and Karin many thanks for helpful discussions regarding angiogenesis, invasion, methods and so on. You are great persons. Jocab for always being in a positive mode. Many thanks for IF microscope and Photoshop helps. Indril for being a good friend. Hopefully you two guys now can cook rice in Iranian way!! I mean, after several times reviewing the receipt!! Marcella, I found your especial skills! late. Many thanks for your help in nonscientific skills. You are a great friend. Katja for your great scientific and non-scientific experiences and helpfulness. Michael for discussions and reagents. Linn and Eva for being so friendly. Lotta for all cell culture discussions and being so nice friend. Emma for reagents and WB discussions. At the end of my thesis, I should say I hate this method. It is unbelievable how people can do a lot of stainings on one blot! Daniel, Markus, Martin, Christina, Janna, Maja, Åsa, Jeroen and Kai, I had a lot of discussions with you guys from Genespring to RAS/ROS!, and a lot of nonscientifics with others. Thank you for that. The ex-group on 3rd floor, Stig Linder and his present and past group. Alexandra, Linda, Maria, B, H and S, Kristina. Thank you for being so helpful and friend. Joe, You are a nice person and very helpful and your warm and friendly character has always influenced on everyone (there are always some exceptions!). Thank you for all your help, related to work and un-related to work. Sören, For your help in fixing all technical equipment in the lab, and for making everything run smoothly. Eva-Lena, Mari and Ann-Gitt for keeping CCK working! Elisabeth, Elle and Emily, Thank you for being so helpful and nice. Thank you also for turning on the autoclave for my urgent works! Ande...
View Full Document
This document was uploaded on 03/06/2014.