This preview shows page 1. Sign up to view the full content.
View Full Document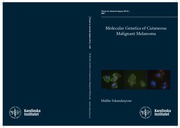 This is the end of the preview.
Sign up
to access the rest of the document.
Unformatted text preview: , Zhang X, Fowlkes K, Haluska FG. Relative reciprocity of NRAS and PTEN/MMAC1 alterations in cutaneous melanoma cell lines. Cancer Res 2000;60(7):1800-4. Isabel Zhu Y, Fitzpatrick JE. Expression of c-kit (CD117) in Spitz nevus and malignant melanoma. J Cutan Pathol 2006;33(1):33-7. 55. 56. 57. 58. 59. 60. 61. 62. 63. 64. 65. 66. 67. 68. 69. 70. 71. 72. Willmore-Payne C, Layfield LJ, Holden JA. c-KIT mutation analysis for diagnosis of gastrointestinal stromal tumors in fine needle aspiration specimens. Cancer 2005;105(3):165-70. Fukuda R, Hamamoto N, Uchida Y, Furuta K, Katsube T, Kazumori H, et al. Gastrointestinal stromal tumor with a novel mutation of KIT proto-oncogene. Intern Med 2001;40(4):301-3. Curtin JA, Busam K, Pinkel D, Bastian BC. Somatic activation of KIT in distinct subtypes of melanoma. J Clin Oncol 2006;24(26):4340-6. Cachia AR, Indsto JO, McLaren KM, Mann GJ, Arends MJ. CDKN2A mutation and deletion status in thin and thick primary melanoma. Clin Cancer Res 2000;6(9):3511-5. Grafstrom E, Egyhazi S, Ringborg U, Hansson J, Platz A. Biallelic deletions in INK4 in cutaneous melanoma are common and associated with decreased survival. Clin Cancer Res 2005;11(8):2991-7. Sherr CJ. Divorcing ARF and p53: an unsettled case. Nat Rev Cancer 2006;6(9):663-73. Sauter ER, Herlyn M. Molecular biology of human melanoma development and progression. Mol Carcinog 1998;23(3):132-43. Koprowski H, Herlyn M, Balaban G, Parmiter A, Ross A, Nowell P. Expression of the receptor for epidermal growth factor correlates with increased dosage of chromosome 7 in malignant melanoma. Somat Cell Mol Genet 1985;11(3):297-302. Isshiki K, Elder DE, Guerry D, Linnenbach AJ. Chromosome 10 allelic loss in malignant melanoma. Genes Chromosomes Cancer 1993;8(3):178-84. Jonsson G, Dahl C, Staaf J, Sandberg T, Bendahl PO, Ringner M, et al. Genomic profiling of malignant melanoma using tiling-resolution arrayCGH. Oncogene 2007. Tanami H, Imoto I, Hirasawa A, Yuki Y, Sonoda I, Inoue J, et al. Involvement of overexpressed wild-type BRAF in...
View Full Document
This document was uploaded on 03/06/2014.