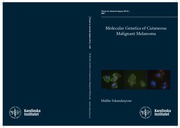 This is the end of the preview.
Sign up
to access the rest of the document.
Unformatted text preview: 11):1363-74. Platz A, Ringborg U, Brahme EM, Lagerlof B. Melanoma metastases from patients with hereditary cutaneous malignant melanoma contain a high frequency of N-ras activating mutations. Melanoma Res 1994;4(3):169-77. Pollock PM, Meltzer PS. A genome-based strategy uncovers frequent BRAF mutations in melanoma. Cancer Cell 2002;2(1):5-7. Kumar R, Angelini S, Snellman E, Hemminki K. BRAF mutations are common somatic events in melanocytic nevi. J Invest Dermatol 2004;122(2):342-8. Bauer J, Curtin JA, Pinkel D, Bastian BC. Congenital melanocytic nevi frequently harbor NRAS mutations but no BRAF mutations. J Invest Dermatol 2007;127(1):179-82. Albino AP, Fountain JW. Molecular genetics of human malignant melanoma. Cancer Treat Res 1993;65:201-55. Demunter A, Stas M, Degreef H, De Wolf-Peeters C, van den Oord JJ. Analysis of N- and K-ras mutations in the distinctive tumor progression phases of melanoma. J Invest Dermatol 2001;117(6):1483-9. Omholt K, Karsberg S, Platz A, Kanter L, Ringborg U, Hansson J. Screening of N-ras Codon 61 Mutations in Paired Primary and Metastatic Cutaneous Melanomas: Mutations Occur Early and Persist throughout Tumor Progression. Clin Cancer Res 2002;8(11):3468-74. 37 37. 38. 39. 40. 41. 42. 43. 44. 45. 46. 47. 48. 49. 50. 51. 52. 53. 54. 38 Jafari M, Papp T, Kirchner S, Diener U, Henschler D, Burg G, et al. Analysis of ras mutations in human melanocytic lesions: activation of the ras gene seems to be associated with the nodular type of human malignant melanoma. J Cancer Res Clin Oncol 1995;121(1):23-30. van Elsas A, Scheibenbogen C, van der Minne C, Zerp SF, Keilholz U, Schrier PI. UV-induced N-ras mutations are T-cell targets in human melanoma. Melanoma Res 1997;7 Suppl 2:S107-13. van Elsas A, Zerp SF, van der Flier S, Kruse KM, Aarnoudse C, Hayward NK, et al. Relevance of ultraviolet-induced N-ras oncogene point mutations in development of primary human cutaneous melanoma. Am J Pathol 1996;149(3):883-93. Jiveskog S, Ragnarsson-Olding B, Platz A, Ringborg U. N-ras mutations are common in me...
View Full Document
This document was uploaded on 03/06/2014.