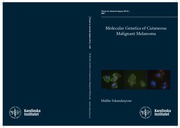 This is the end of the preview.
Sign up
to access the rest of the document.
Unformatted text preview: RAS in these cell lines resulted in decreased proliferation, increased apoptosis as well as decreased phosphorylation of ERK and AKT, in the NRAS signaling pathway and reduced expression of NF-κB and cyclin D1. In contrast, RNA interference directed at wild type NRAS had no significant effect on the proliferation and apoptosis of 224 cells or two human melanoma cell lines (A375 and 397) containing wild type NRAS but a codon 600 GTG (V) to GAG (E) mutation in BRAF. These data suggest that oncogenic NRAS is crucial for proliferation in melanomas that harbor the codon 61 NRAS mutation and that suppression of oncogenic NRAS in such melanomas by RNA interference may prove a useful future therapeutic option. Paper ΙΙΙ Oncogenic NRAS has a Pivotal Role in the Malignant Phenotype of Human Melanoma Cells. Submitted for publication One of the major goals of melanoma research is to identify molecular targets for the development of novel treatment strategies. Activating mutations in the NRAS gene, which occur predominantly in codon 61 (Q61R, Q61K) can be good therapeutic targets since these alterations are among the most common genetic events in malignant melanoma. These mutations affect regulation of cellular growth and viability, which contribute to the malignant phenotype. We demonstrated in paper II that suppression of oncogenic NRAS by siRNA inhibited proliferation and induced apoptosis in human melanoma cells, suggesting that oncogenic NRAS is crucial for proliferation and resistance to apoptosis in melanomas. With the aim of improving our understanding of the role of this oncogene in melanoma biology and to identify possible specific molecular therapeutic targets in this malignant disease, we used gene expression profiling as a method for global characterization of gene expression alterations that resulted from treatment of melanoma cells with siRNA specifically targeting NRASQ61R. Thirty-one probe sets were identified whose expression was significantly altered by siRNA against NRASQ61R in two melanoma cell lines. The genes with alte...
View Full Document
This document was uploaded on 03/06/2014.