This preview shows page 1. Sign up to view the full content.
View Full Document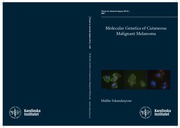 This is the end of the preview.
Sign up
to access the rest of the document.
Unformatted text preview: RAS by RNAi can serve as a highly specific therapy. It has been investigated that suppression of the KRASG12V mutation by retroviral vector-mediated RNAi inhibited the anchorage-independent growth in vitro, and growth in nude mice, of human pancreatic cells, although no significant effect was found on proliferation under adherent conditions (106). Furthermore, suppression of the HRASG12V mutation in a human ovarian cancer cell line by retroviral vector-mediated RNAi has been demonstrated to decrease proliferation, increase G0/G1 arrest and apoptosis, and decrease tumor growth in nude mice (107). 26 Aims The overall aim of this thesis was: To estimate the frequency of NRAS alterations in malignant melanomas in patients. with germline CDKN2A mutations. To establish the time of appearance of NRAS alterations during tumor development. To define the role of these alterations in melanoma development in these high-risk individuals. To specifically suppress the expression of mutant NRAS by siRNA in melanoma cells. To determine whether suppression of mutant NRAS is sufficient to reverse the effects of oncogenic NRAS in human melanoma cells. To study the role of the NRAS oncogene in the malignant phenotype of melanoma. To define which genes and pathways involved in the malignant phenotype are regulated by mutant NRAS. 27 Results and Conclusions The thesis is based on three publications with the overall aim to investigate the importance of activating mutations in the NRAS proto-oncogene in human cutaneous melanoma. In the first study NRAS mutations were analyzed in primary and metastatic melanoma tumors in patients with hereditary melanomas and germline CDKN2A mutations. In the two later studies the importance of mutant NRAS in human melanoma cells was explored by knocking down the mutant gene using RNAi. Paper Ι Frequency of UV-Inducible NRAS Mutations in Melanomas of Patients With Germline CDKN2A Mutations, Journal of the National Cancer Institute 2003; 95(11):790-798. Germline alterations of the cy...
View Full Document
This document was uploaded on 03/06/2014.