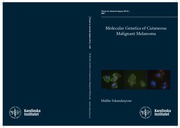 This is the end of the preview.
Sign up
to access the rest of the document.
Unformatted text preview: y the function of the genes identified by gene expression profiling by ectopic expression and knocking down of the genes in melanoma cell lines. To further evaluate the potential use of siRNA against NRASQ61R in vivo. To investigate the function of HBP1 and Txnip inhibitors in melanoma cells and study a possible connection to the generation of ROS in NRAS suppressed melanoma cells. 32 Acknowledgments During all these years education especially in PhD period , I have had chance to meet many wonderful and kindhearted people. Here I take this opportunity to express my sincere gratitude to all of you who have helped me or supported me in any way, both research and also life. I would like to thank in particular: Johan Hansson, For accepting me in your group and giving me a chance to work on melanoma. For all your support during these years. For your great knowledge in clinic and basic sciences. For your scientific guidance. I have learnt a lot from you especially the way of thinking! I am grateful that you always found time for me when I needed despite your busy schedule in clinic, I wish we could have you more in the lab. I deeply appreciate your kindness and patience during these years. Anton Platz, For always having time for discussion and for advice. For shearing your knowledge in melanoma. For your continuous interest and care for the group, I am really grateful working with you. Ulrik Ringborg, For always supporting melanoma research and all efforts for organizing cancer research. Suzanne Egyhazi, For your valuable discussions and collaborative work. For great and supportive friendship. Thank you also for seminar lunches which made others!! jealous!! Elahe Elahi, My Iranian professor in my MSc project.You are a great person and a good scientist. I am really grateful for all your efforts to make me a better researcher. I spent along time in your lab just for getting MSc degree but I learnt a lot in molecular biology. Behrooz Behboodi, My Iranian professor in my BSc project. For teach...
View Full Document
This document was uploaded on 03/06/2014.