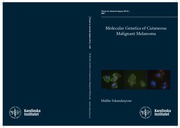 This is the end of the preview.
Sign up
to access the rest of the document.
Unformatted text preview: asminogen activator urokinase plasminogen activator receptor ultraviolet vascular epithelial growth factor vertical growth phase wildtype p53 activated fragment 1 (CDKN1A) Abstract Cutaneous malignant melanoma is an aggressive tumor of melanocytes in the skin with rapidly increasing incidence. Patients with advanced disease have a poor prognosis since the tumor is usually resistant to current therapies. Therefore, the development of novel strategies for preventing and treating melanoma is important. To explore novel therapies we need to find appropriate targets and for that knowledge about the biology of melanoma is important. There is growing evidence suggesting that NRAS has an important role in tumorigenesis and tumor maintenance in malignant melanoma and that the RAS-RAF-ERK signaling pathway is constitutively activated through multiple mechanisms, one of which is activating mutations in NRAS gene. In an initial study, we investigated the occurrence of activating mutation in the NRAS gene in a subset of patients with hereditary melanoma carrying germ line CDKN2A alterations. From this study we found differences in the frequency of NRAS mutations between hereditary and sporadic melanomas. Activating mutations in NRAS codon 61 were found in 95% (20/21) of primary hereditary melanomas but in only 10% (1/10) of sporadic melanomas. We also detected multiple activating NRAS mutations in tumor cells from different regions of individual primary hereditary melanomas. Activating mutations that were detected in the primary melanomas of these patients were also retained in their metastases. We also found that NRAS mutations are present in potential precursor lesions (dysplastic nevi). We concluded that the high frequency of NRAS codon 61 mutations detected in these hereditary melanomas may be the result of a hypermutability phenotype associated with the hereditary predisposition for melanoma development in patients with germline CDKN2A mutations. The presence of a mutant NRAS oncogene in sporadic and familial melanomas implies that the NRAS oncogene may be an important target for prevention and treatment of me...
View Full Document
This document was uploaded on 03/06/2014.