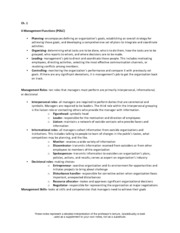 This is the end of the preview.
Sign up
to access the rest of the document.
Unformatted text preview: reativity and tolerance for change. Coping with "Temporariness"- most managers and employees must work in a climate best characterized as "temporary". Workers must continually update their knowledge and skills to perform new job requirements. In the past, employees were assigned to a specific work group. Now, there are temporary work groups with members from different departments and the increased use of employee rotation to fill constantly changing work assignments. Organizations must reorganize their various divisions, sell off poorly performing businesses, downsize operations, subcontract non- critical services and operations to other organizations, and replace permanent employees with temporary workers. The study of OB can help managers understand a work world of continual change, overcome resistance to change, and create an organizational culture that thrives on change. Working in Networked Organizations- network organizations allow people to communicate and work together. Computers and internets are often used to telecommute around the globe. Software programmers, technical writers, etc are just a few examples of people who can work from home or other places. The manager's job is different in a networked organization. Motivating and leading people and making collaborative decisions online requires different techniques than when individuals are physically present in a single location. Helping Employees Balance Work- Life Conflicts- employees are increasingly complaining that the line between work and non- work time has become blurred, creating...
View Full Document
This document was uploaded on 03/18/2014 for the course BUAD 304 at USC.