This preview shows page 1. Sign up to view the full content.
View Full Document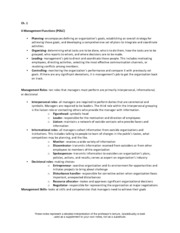 This is the end of the preview.
Sign up
to access the rest of the document.
Unformatted text preview: has any physical or mental impairment that substantially limits one or more major life activities. Other Biographical Characteristics: Tenure, Religion, Sexual Orientation, and Gender Identity • Tenure- the most recent evidence demonstrates a positive relationship between seniority and job productivity. Tenure appears to be a good predictor of employee productivity. • Religion- US federal law prohibits employers from discriminating against employees based on their religion. Many Christians do not believe they should work on Sundays and many conservative Jews believe they should not work on Saturdays. Because of different perceptions of religion's role in the workplace, religious discrimination claims have been a growing source of discrimination claims in the United States. • Sexual Orientation and Gender Identity- Federal law does not prohibit discrimination again employees based on sexual orientation, though many states and municipalities do. Ability- an individual's current capacity to perform the various tasks in a job • • Intellectual abilities- abilities needed to perform mental activities- thinking, reasoning, and problem solving. The more complex a job in terms of information- processing demands, the more general intelligence and verbal abilities will be necessary to perform successfully. Wonderlic Cognitive Ability Test is the most widely used intelligence test. The correlation between intelligence and job satisfaction is about zero. o Number aptitude- ability to do speedy and accurate arithmetic o Verbal comprehension- ability to under...
View Full Document
This document was uploaded on 03/18/2014 for the course BUAD 304 at USC.