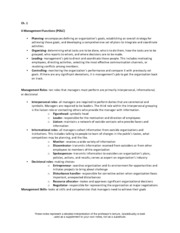 This is the end of the preview.
Sign up
to access the rest of the document.
Unformatted text preview: e communities in which they operate. Managing Workforce Diversity- this addresses difference among people within given countries. This acknowledges a workforce of women and men; many racial and ethic groups; individuals with a variety of physical or psychological abilities; and people who differ in age and sexual orientation. In the United States, there has been a rapid group of female workers. Improving Customer Service- 80% of employees in the United States work in service jobs. This includes technical support representatives, fast- food counter workers, sales clerks, waiters, nurses, etc. The common characteristic of these jobs is substantial interaction with an organization's customers. OB can help managers by contributing to improving an organization's performance by showing managers how employee attitudes and behavior are associated with customer satisfaction. Employees should be friendly, courteous, accessible, knowledgeable, etc. Improving People Skills- ways to design motivating jobs, techniques for improving listening skills, and how to create more effective teams. Stimulating Innovation and Change- successful organizations must foster innovation and master the art of change. Victory will go to the organizations that maintain their flexibility, continually improve their quality, and beat their competition to the marketplace with a constant stream of innovative products and services. The field of OB provides a wealth of ideas and techniques to aid in realizing the goals of challenging managers is to stimulate their employees' c...
View Full Document
This document was uploaded on 03/18/2014 for the course BUAD 304 at USC.