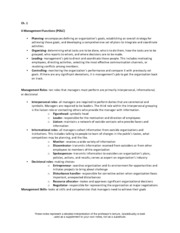 This is the end of the preview.
Sign up
to access the rest of the document.
Unformatted text preview: • Decisional roles- making choices o Entrepreneur- searches organization and its environment for opportunities and initiates projects to bring about challenge o Disturbance handler- responsible for corrective action when organization faces important, unexpected disturbances o Resource allocator- makes and approves significant organizational decisions o Negotiator- responsible for representing the organization at major negotiations Management Skills- looks at skills and competencies that managers need to achieve their goals • These notes represent a detailed interpretation of the professor's lecture. GradeBuddy is best used as a supplement to your own notes, not as a substitute. • • • Technical skills- encompasses the ability to apply specialized knowledge or expertise. All jobs require some specialized expertise and many people develop their technical skills on the job Human skills- the ability to understand, communicate with, motivate, and support other people, both individually and in groups. They must have good human skills Conceptual skills- managers must have the mental ability to analyze and diagnose complex situations. This requires managers to identify problems, develop alternative solutions to correct those problems, evaluate those alternative solutions, and select the best one. Effective versus Successful Managerial Activities- Successful managers give almost the opposite emphases to traditional management, communication, human resource management, and networking as do effective managers. • • • • Traditional Management- decision making, planning, controlling Communication- exchanging routine infor...
View Full Document
This document was uploaded on 03/18/2014 for the course BUAD 304 at USC.