This preview shows page 1. Sign up to view the full content.
View Full Document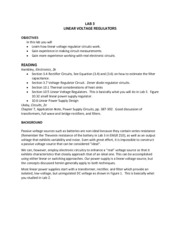 This is the end of the preview.
Sign up
to access the rest of the document.
Unformatted text preview: you will often encounter a custom- designed regulator made with discrete components. This could be in an older piece of equipment, or merely due to the fact that a non- standard voltage, high current or unusual design specification is required. VOLTAGE REGULATOR ANALYSIS For the input to the voltage regulator you will use a full mode rectifier from Lab 2 as shown in Figure 4(a). You will want to keep CL to filter the output, but RL is no longer necessary necessary and can be removed. As you learned in Lab 2 a large value of CL will result in lower ripple voltage in the output. The actual voltage regulator circuit is shown in Fig. 4(b). Compare Figure 4(b) to Figure 3. The overall circuit can be considered a non- inverting op- amp amplifier whose...
View Full Document
This document was uploaded on 04/02/2014.