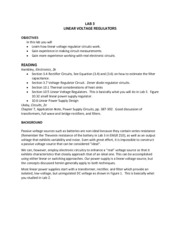 This is the end of the preview.
Sign up
to access the rest of the document.
Unformatted text preview: is a standard power supply voltage. 2. Select your zener diode voltage VZ. VZENER=________________________ This voltage must be smaller than the output voltage VOUT you chose in step 1. The lab has a stock of several different 1N47xx zener diodes ranging from the 1N4028 at 3.3 volts through the 1N4733 at 5.1 volts up to nearly 20 volts. See Appendix 2 for a detailed listing of the 1N47xx voltages. The 1N4735A at 6.2 volts is recommended with the 1N4733A (5.1 volts) and 1N4734A (5.6 volts) as backups depending upon what is in the lab parts bins. 3. Calculate the resistor RZ RZ=________________________ Once you have selected your zener diode voltage choose a resistor RZ to maintain a current of approximately 10- 20 mA through the zener diode for the VC...
View Full Document
This document was uploaded on 04/02/2014.