This preview shows page 1. Sign up to view the full content.
View Full Document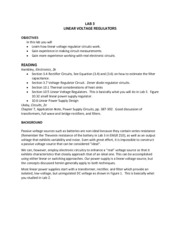 This is the end of the preview.
Sign up
to access the rest of the document.
Unformatted text preview: and the filter capacitor will be less effective. THE LAB A. DESIGNING YOUR VOLTAGE REGULATOR. TO SAVE TIME DO THIS BEFORE COMING TO THE LAB. You will use your filtered full- wave power supply circuit from Lab 2 [Figure 4(a)] as input to a linear voltage regulator. Unlike most labs you have done previously you will be designing your own regulator circuit in this lab to maintain a specified output voltage VOUT. 1. Select your regulated output voltage VOUT. VOUT=________________________ This voltage must be less than the output voltage VOUT coming from your full- wave filtered power supply circuit. A good rule for this circuit is for VOUT to be at least 4 volts below your VC. Pick 12 volts for your circuit design since this...
View Full Document
This document was uploaded on 04/02/2014.