This preview shows page 1. Sign up to view the full content.
View Full Document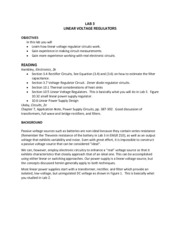 This is the end of the preview.
Sign up
to access the rest of the document.
Unformatted text preview: e output voltage so that it always equals the reference. Since the op- amp has essentially infinite gain, the output will equal the reference even if the input voltage or the load changes. This is nothing more than the "virtual short" rule of the op- amp that both inputs will always be the same voltage. This circuit can be enhanced in numerous w Vref ays. For example, in Fig. 3 the feedback is taken from a voltage divider at the output; this allows the use of a reference that is less than the output voltage. In this figure, if R1 = R2, Vout will be twice the reference voltage. Fig. 3. Enhanced regulator with voltage divider feedback. More mathematically use to indicate the reference voltage, Vout to indicate the voltage across the load, and fVout to indicate the fraction of...
View Full Document
This document was uploaded on 04/02/2014.