This preview shows page 1. Sign up to view the full content.
View Full Document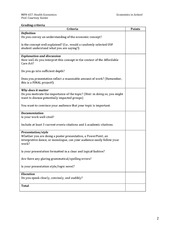 This is the end of the preview.
Sign up
to access the rest of the document.
Unformatted text preview: lude at least 3 current events citations and 5 academic citations. Presentation/style Whether you are doing a poster presentation, a PowerPoint, an interpretive dance, or monologue, can your audience easily follow your work? Is your presentation formatted in a clear and logical fashion? Are there any glaring grammatical/spelling errors? Is your presentation style/topic novel? Elocution Do you speak clearly, concisely, and audibly? Total Points 2...
View Full Document
This document was uploaded on 04/04/2014.