This preview shows page 1. Sign up to view the full content.
View Full Document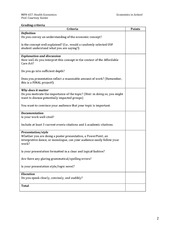 This is the end of the preview.
Sign up
to access the rest of the document.
Unformatted text preview: ve – meaning, if your group is tied to a particular concept, turn your proposal in early. Deliverable Your final project is a presentation on May 2nd. While PowerPoint might be the easiest way of reporting results, other presentation media are both acceptable and encouraged. Whether you decide on poster presentation, a PowerPoint, an interpretive dance, or monologue, you want to make sure that your presentation is clear, accessible, easy to follow, and, informative. Most importantly, you want to convey to your audience that you have a strong understanding of: (a) The economic subject matter; (b) How the topic relates to the Affordable Care Act; and, (c) What groups will be impacted by the policy 1 http://www.nytimes.com/2012/07/29/health/policy/too-­‐few-­‐doctors-­‐in-­‐many-­‐us-­‐communities.html 1 MPH 657: Health Economics Prof. Courtney Keel...
View Full Document
This document was uploaded on 04/04/2014.