This preview shows page 1. Sign up to view the full content.
View Full Document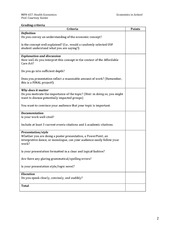 This is the end of the preview.
Sign up
to access the rest of the document.
Unformatted text preview: er Economics in Action! Grading criteria Criteria Definition Do you convey an understanding of the economic concept? Is the concept well explained? (I.e., would a randomly selected USF student understand what you are saying?) Explanation and discussion How well do you interpret this concept in the context of the Affordable Care Act? Do you go into sufficient depth? Does you presentation reflect a reasonable amount of work? (Remember, this is a FINAL project!) Why does it matter Do you motivate the importance of the topic? (Hint: in doing so, you might want to discuss potentially impacted groups) You want to convince your audience that your topic is important. Documentation Is your work well cited? Inc...
View Full Document
This document was uploaded on 04/04/2014.