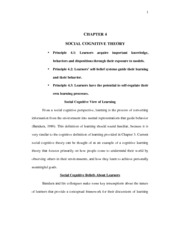 This is the end of the preview.
Sign up
to access the rest of the document.
Unformatted text preview: ional materials and experiences that are moderately challenging, but that are at the students' instructional level. • If students are discouraged, stress improvement in small increments. Start with tasks students can succeed at and gradually increase task difficulty. • Provide students with some choice in what and how they learn to promote a sense of personal control over their learning. Goal Setting Goals are important for self-regulation because they specify standards for success. They also prompt learners to monitor their progress toward their goals, and to modify their efforts to increase the likelihood of reaching their goals 36 (Bandura, 1991). Helping learners to be effective goal-setters can improve both their sense of self-efficacy and their achievement (Bandura & Schunk, 1981). Goals are likely to be more useful to learners if they meet certain criteria (Locke & Latham, 1990; Ridley, Schunk, 2001; Schutz, Glanz, & Weinstein, 1992). First, the goals should be specific. Vaguely conceptualized goals are hard to monitor and evaluate. It is better to specify the types of improvements that are desired. For example, rather than setting a goal to be a better student, a student might focus on specifics such as reading the assigned material for tomorrow's class. Second, goals should be reasonably challenging. They should not be set so high that failure is guaranteed, but they should not be set so low that minimal effort is required to accomplish the goals. If goals are both specific and reasonably challenging, students often can improve their motivation to perform (Locke & Latham, 1990). Goals should be proximal, which means that learners should think in terms of short-term goals that lead them eventually to their long-term goals (Bandura & Schunk, 1981). For example, you could talk to students about what they would like to accomplish today or this week that will help them accomplish their longterm goals. Selecting Effective Strategies 37 To b...
View Full Document
This document was uploaded on 03/29/2014 for the course EPS 324 at N. Arizona.