This preview shows page 1. Sign up to view the full content.
View Full Document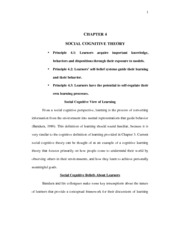 This is the end of the preview.
Sign up
to access the rest of the document.
Unformatted text preview: problem-solving and learning strategies at different times and in different contexts. For example, teachers in a school could identify a series of learning strategies and introduce them in different content areas. 42 • Help students identify the appropriate times to use the strategies they have learned. For example, talk to students about when a memory strategy like a mnemonic should be used. • Allow students some input into the grades they earned. For example, students could present their ideas about the grade they think they deserve. • Have students select the portfolio work samples that they think best represent their learning. • Video tape students' performance and allow them to assess their own performance. • Have students work as peer tutors in lower grades, so they can assess what they have learned. • Have students write down their major class accomplishments for a grading period. • Teach students to talk themselves through difficult problems. • Teach students to use simple work-checking routines like reversing math operations to check their accuracy. Social Cognitive Learning Principles One of the themes of this book is that appropriate application of psychological theory improves the quality of teachers' decisions. Social cognitive learning theory provides a number of useful concepts for your classroom 43 decision-making. To help you apply these concepts, we have summarized them in terms of three major learning principles. In later chapters, these principles will be used to organize discussions about the decisions involved in determining how to teach and how to manage classroom behavior, and how to assess learning. Principle 4.1: Learners Acquire Important Knowledge, Behaviors and Dispositions Through Their Exposure to Models. Bandura's social cognitive theory explains how learning occurs through modeling. Bandura's ideas about vicarious consequences, performance effects of modeling, observational learning, and variables that influence the success of modeling are all important concepts for implementing this prin...
View Full Document
This document was uploaded on 03/29/2014 for the course EPS 324 at N. Arizona.