This preview shows page 1. Sign up to view the full content.
View Full Document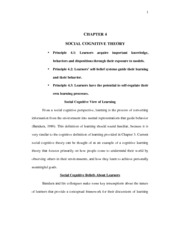 This is the end of the preview.
Sign up
to access the rest of the document.
Unformatted text preview: s them for their hard work. His students learn that if they want praise in the future, they need to try hard. Symbolic representation provides an important foundation for one of the important assumptions that social cognitive theorists make about learning. Bandura and the social cognitivists distinguish between learning and performance. As we noted earlier, learning is the acquisition of mental models that guide behavior. Performance, on the other hand, is what we actually do in a given situation (Mischel & Mischel, 1994). One important implication of the distinction between learning and performance is that we can acquire mental models without actually having to engage in overt behaviors. For example, we may learn how to divide fractions by watching someone demonstrate how to divide fractions. A 6 second important implication of the distinction between learning and performance is that students' performances may not reveal what they have learned. People may self-censure their behavior if it violates moral principles or if the behavior is socially unacceptable (Bahn, 2001). For example, it's not always socially desirable to be the student who answers teachers' questions. Peers may call these students "brown-nosers" or "school boys/girls" or "teachers' pets." Given these potential aversive consequences, some students may not show what they know. In general, therefore, performance can be an imperfect indicator of learning. When students do not do something, you need to be cautious in assuming that they cannot do something. There can be many personal and social reasons why people do not show what they know. The capability to learn vicariously. Bandura (1977) acknowledges that people can and often do learn through their own experiences, and he refers to this type of learning as enactive learning. However, Bandura also believes that acquiring complicated cognitive and social understandings through direct experience would be highly inefficient. As an alternative, Bandura proposes vicarious learning...
View Full Document
This document was uploaded on 03/29/2014 for the course EPS 324 at N. Arizona.