This preview shows page 1. Sign up to view the full content.
View Full Document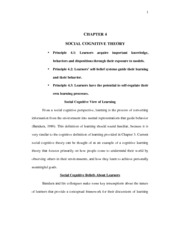 This is the end of the preview.
Sign up
to access the rest of the document.
Unformatted text preview: lf-efficacy judgments by teachers are associated with how students achieve in classrooms (Ross, 1992; Moore & Esselman, 1992; Tschannen-Moran, Woolfolk Hoy, & Hoy, 1998). As is the case with students' self-efficacy beliefs, teachers' self-efficacy beliefs affect their behavior in a number of ways. Teachers with a low sense of instructional self-efficacy are more likely to show a low commitment to teaching, to spend less time on academics, and to burnout than are teachers with high selfefficacy (Bandura, 1993). In contrast, teachers with higher levels of self-efficacy tend to be more willing to try innovative approaches, persist longer in the face of student failure, and to engage more effectively in teaching activities such as planning (Allinder, 1994; Ashton & Webb, 1986; Gibson & Dembo, 1984; Tschannen-Moran, et al., 1998; Yost, 2002). Certainly the daily experiences of teachers can serve to undermine their sense of teaching efficacy. We are not always successful in our efforts to help students succeed, and there are numerous important variables that we do not control. Teachers also need to engage in activities to maintain and enhance their 61 self-efficacy. For example, be a good data collector. Your students' improvement often occurs in small steps. Frequent data collection may make it easier to see these small improvements. What else could you do to maintain a high level of teacher self-efficacy? (For your authors' perspective on this question go to the chapter web site.) Focus on Learner Diversity 4.1 Performance vs. Learning and the Silent Period As a classroom teacher, it is very likely that you will have students in your classroom for whom English is a second language. You will need to understand how to help these students succeed. The silent period and the affective filter are two ideas from the research on second language learning that are related to the social cognitive theory. The silent period occurs for many students following their initial exposure to a second language. During the silent period, which can last for several months, stu...
View Full Document
This document was uploaded on 03/29/2014 for the course EPS 324 at N. Arizona.