This preview shows page 1. Sign up to view the full content.
View Full Document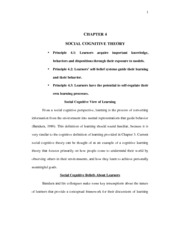 This is the end of the preview.
Sign up
to access the rest of the document.
Unformatted text preview: ciple. Principle 4.1 has an important implication for classroom teaching and classroom management. Skills, social behaviors, strategies, and attitudes in particular are often learned directly or indirectly through modeling. Consequently, the effective use of observational learning will be an important tool for enacting some of your decisions about how to teach. Principle 4.2: Learners' Self-Belief Systems Guide their Learning and their Behavior. According to social cognitive theory, two key learner belief systems are outcome expectations and self-efficacy. In particular students' self-efficacy impacts on the types and amount of effort students expend in classrooms. Chapter 6 on motivation theory will show you how other self-belief concepts from value x 44 expectancy theory can help support your understanding and application of selfefficacy. For example, you will learn how students' motivational goals are influenced by their expectations for success. The major implication of Principle 4.2 for your decision-making is that we need to consider students' self-beliefs when we select goals and learning experiences for our students. Whenever possible, we should try to create classroom environments that promote a positive sense of self-efficacy among our students. Principle 4.3: Learners Have the Potential to Self-Regulate their own Learning Processes Bandura believes that students self-regulate by setting goals, selecting appropriate strategies to achieve those goals, and by these self-regulation processes: self-monitoring, self-reinforcement, and self-instruction. The application of Principle 4.3, therefore, is important for achieving the goal of encouraging students to become self-regulating learners. Principle 4.3 has specific implications for your decision about what to teach. Students often need to develop self-management and learning strategies to succeed. Our classrooms will need to be places where these strategies are developed through our teaching and approaches to...
View Full Document
This document was uploaded on 03/29/2014 for the course EPS 324 at N. Arizona.