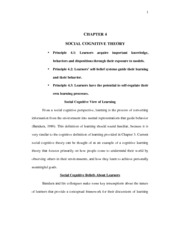 This is the end of the preview.
Sign up
to access the rest of the document.
Unformatted text preview: nses occur, they provide further data to students about the likelihood of their success. Teachers should create classroom environments where students feel emotionally supported. Self-efficacy effects on achievement. Our self-efficacy beliefs influence our thought processes, our emotions, and our behaviors. More specifically, students' perceived self-efficacy can influence their choice of activities, the quantity and quality of their efforts, their persistence in the face of adversity, and their emotional responses. Students' self-efficacy beliefs influence their choices of activities in a number of ways. First, students tend to engage in tasks that they feel confident 33 about and to avoid tasks for which they lack confidence (Pajares & Schunk, 2002). Second, levels of self-efficacy are correlated with levels of intrinsic interest in tasks (Zimmerman & Kitsantos, 1997, 1999). Students tend to be interested in activities at which they can succeed, and are more likely to engage in activities that interest them (Pajares & Schunk, 2001; Schraw, Flowerday, & Lehman, 2001). Third, self-efficacy beliefs can influence the level of challenge students will choose for themselves. Students with higher levels of self-efficacy are likely to select harder goals for themselves (Pajares & Schunk, 2001; Zimmerman, Bandura, & Martinez-Pons, 1992). Fourth, self-efficacy beliefs have been found to be an important factor in students' career choices (Bandura, Barbaranelli, Caprara, & Pastorelli, 2001; Betz & Hackett, 1997; Hackett, 1995; Panagos & Dubois, 1999; Sullivan, & Mahalik, 2000). Students are likely to avoid course work and occupations for which their self-efficacy is low. Self-efficacy beliefs also affect the amount and type of effort students expend on an academic task. Students with high levels of self-efficacy are more likely to believe that they can succeed with additional effort (Alden, 1986). Selfefficacy beliefs also influence students' willingness to use effective learning strategies and to discard faulty strategies that aren't working (Linnenbrink & Pintrich, 2003; Schunk,...
View Full Document
This document was uploaded on 03/29/2014 for the course EPS 324 at N. Arizona.