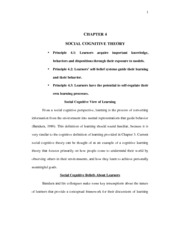 This is the end of the preview.
Sign up
to access the rest of the document.
Unformatted text preview: olving a story problem is to draw a picture." • Self-Evaluating and Error Correcting Instructions: Students evaluate their performance to catch mistakes or deviations from their strategy. A student might say, "I forgot to provide the units for my math answer," or "I need to check for spelling errors." • Coping and Self-Control Instructions: Students help themselves cope with frustration or negative emotions like anxiety. "A student might say, "I can do this. I just need to follow my plan." • Self-Reinforcement Instructions: A student might say, "I did that one just right." A number of different self-instructional programs have been developed for use in the classroom. For example, Think Aloud a classroom program that makes extensive use of self-instruction to help students manage their impulses (Camp, 1977; Camp & Bash, 1978; Camp, Blom, Hebert & van Doornick, 1977). As part of this program, students are taught this four-step self-instructional program for problem solving. • What is my Problem? • What Can I do? • Am I using My Plan? 41 • How Did I Do? The three step self-instructional program of cover, copy, and compare is a second self instructional approach, and it has been taught to students to help them study for tests in a number of academic areas (McLaughlin, & Skinner, 1996; Struthers, Struthers, & Williams, 1983). For example, when studying for a spelling test, students would look at a word, cover it, try to copy it, and then compare to see how they had done. Here are some additional ideas for encouraging your students to selfregulate their learning. • Use written and oral contracts with students to set reasonably challenging goals. • Have students write about what they would like to be doing in five or ten years, and have discussions about how to realize those goals. • Do goal-setting conferences with student as part of report card process. Have them self-evaluate progress, and set goals for the next grading period. • Introduce students to a variety of...
View Full Document
This document was uploaded on 03/29/2014 for the course EPS 324 at N. Arizona.