This preview shows page 1. Sign up to view the full content.
View Full Document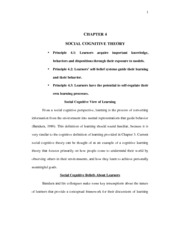 This is the end of the preview.
Sign up
to access the rest of the document.
Unformatted text preview: A model gets enacting a behavior detention for a are strengthened. Performance color within the knowledge are Inhibitory Effect A child learns to dispositions or Learning New behaviors, behavior. Other students don't do that behavior. Disinhibitory Effect Performance Learners' A student isn't inhibitions for a punished for behavior are throwing food at weakened. lunch. Other students throw food. Facilitating Effect Performance Behaviors are cued A parent buckles a 54 by a model's seat belt. The child behavior. buckles up too, without being told. 55 Table 4.2. Variables that influence modeling. Model Characteristics Learner Characteristics Modeled Behavior Power Developmental Status Complexity Prestige Goals Unfamiliarity Competence Self Efficacy Functional Value Similarity Outcome Expectations 56 Table 4.3 Looking Ahead Social Cognitive Principle and Decision-Making. Principle 4.1: Learners acquire important information, behaviors and dispositions through their exposure to models Decision Area Implication For Practice Looking Ahead Teaching and Classroom Management Teachers can use what they know about modeling and observational learning to help understand students' social behaviors and to teach new information, behaviors, and dispositions. Chapters 7 and 10 Principle 4.2 Learners' self-belief systems guide their learning and behavior. Decision Area Implication For Practice Looking Ahead Planning Teachers need to design instruction and classroom environments that promote self-efficacy for learning. Chapter 9 Teaching and Classroom Management Teachers need to understand how selfefficacy and other selfbelief systems affect students' motivation to learn. Chapters 6, 7, and 8 Teachers need to use teaching approaches that encourage students to believe they can succeed. Principle 4.3: Learners have the potential to self-regulate their own learning processes. 57 Planning Teachers need to create classroom environments that encourage students to self-regulate their learning and behavior. Chapters 9, 1...
View Full Document
This document was uploaded on 03/29/2014 for the course EPS 324 at N. Arizona.