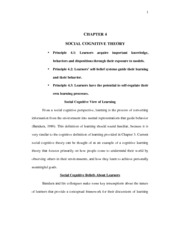 This is the end of the preview.
Sign up
to access the rest of the document.
Unformatted text preview: 1996; Walker, 2003; Zimmerman & Martinez-Pons, 1990). 34 Persistence is students' willingness to continue to try in the face of adversity. Students with high levels of self-efficacy tend to continue to expend effort when they encounter adversity (Jinks & Morgan, 1999; Lackey, Miller, & Flanigan, 1997; Pajares, 1997; Schunk & Pajares, 2002; Zimmerman, 2000). This willingness to persist is very important when students are engaged in the learning of new and highly complicated skills. Finally, self-efficacy is related to a number of important emotional responses. High levels of self-efficacy are associated with decreased levels of stress, anxiety, and depression (Bandura, 1997; Pajares & Kranzler, 1995). Also, people who have high self-efficacy for their ability to cope with emotional challenges are more likely to take on emotionally threatening situations (Bandura, 1998). In general, students who believe they can succeed tend to develop more positive emotional reactions about learning. How to enhance self-efficacy. Given the importance of self-efficacy as a motivational factor, classroom environments need to facilitate high levels of student self-efficacy. Higher levels of student self-efficacy can be encouraged in a number of ways (Bandura, 1993; Fall & McLeod, 2001; Schunk, 1987, 1996; Walker, 2003; Zimmerman, 2000). • Help students develop the idea that ability can be acquired and improved. This can be accomplished in general by making sure that students are working toward achievable improvement goals, 35 and by providing students with the help they need to achieve those goals. • Downplay social comparisons and academic competition. Instead, emphasize self- comparisons. For example, have students chart their own improvement, or use evaluation approaches tike portfolios that show improvement. • Help students believe that they can succeed through effort. Teach students cognitive and metacognitive strategies that will help them improve their performance. • Provide frequent feedback to students about their progress. • Provide instruct...
View Full Document
This document was uploaded on 03/29/2014 for the course EPS 324 at N. Arizona.