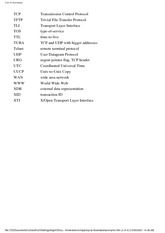 This is the end of the preview.
Sign up
to access the rest of the document.
Unformatted text preview: is condition-the server's output to the client being flow control stopped-is likely to occur, since processes running on the server can usually generate output faster than the client's terminal can display it. Conversely, it is rare for the flow of data from the client to the server to be flow control stopped, since this direction of data flow contains the characters that we type. Recall our example in Figure 20.14 where we saw the urgent notification go across the connection even though the window size was 0. (We'll see another example of this in the next section.) The remaining three commands aren't time critical, but they use the same technique for symplicity. Client to Server Commands Only one command from the client to the server is currently defined: sending the current window size to the server. Window size changes from the client are not sent to the server unless the client receives the command 0x80 (Figure 26.4) from the server. Again, since a single TCP connection is used, the client must have some way of marking the commands that it sends across the connection, so that the server doesn't pass them to the application running on the server. The client does this by sending 2 bytes of 0xff followed by two special flag bytes. For the window size command, the two flag bytes are each the ASCII character s. Following this are four 16-bit values (in network byte order): the number of rows (e.g., 25), file:///D|/Documents%20and%20Settings/bigini/Documenti/homenet2run/tcpip/tcp-ip-illustrated/telnet.htm (6 of 26) [12/09/2001 14.47.45] Chapter 26. Telnet and Rlogin: Remote Login the number of characters per column (e.g., 80), the number of pixels in the X direction, and the number of pixels in the Y direction. Often the final two 16-bit values are 0, because most applications invoked by the Rlogin server deal with the size of the screen in characters, not pixels. This form of command that we've described from the client to the server is called in-band signaling since th...
View Full Document
This test prep was uploaded on 04/04/2014 for the course ECE EL5373 taught by Professor Guoyang during the Spring '12 term at NYU Poly.