This preview shows page 1. Sign up to view the full content.
View Full Document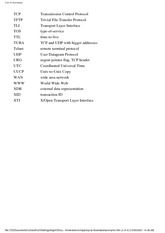 This is the end of the preview.
Sign up
to access the rest of the document.
Unformatted text preview: protocol headers in TCP/IP as in Figure 3.1. The most significant bit is numbered 0 at the left, and the least significant bit of a 32-bit value is numbered 31 on the right. The 4 bytes in the 32-bit value are transmitted in the order: bits 0-7 first, then bits 8-15, then 16-23, and bits 24-31 last. This is called big endian byte ordering, which is the byte ordering required for all binary integers in the TCP/IP headers as they traverse a network. This is called the network byte order. Machines that store binary integers in other formats, such as the little endian format, must convert the header values into the network byte order before transmitting the data. The current protocol version is 4, so IP is sometimes called IPv4. Section 3.10 discusses some proposals for a new version of IP. The header length is the number of 32-bit words in the header, including any options. Since this is a 4-bit field, it limits the header to 60 bytes. In Chapter 8 we'll see that this limitation makes some of the options, such as the record route option, useless today. The normal value of this field (when no options are present) is 5. The type-of-service field (TOS) is composed of a 3-bit precedence field (which is ignored today), 4 TOS bits, and an unused bit that must be 0. The 4 TOS bits are: minimize delay, maximize throughput, maximize reliability, and minimize monetary cost. Only 1 of these 4 bits can be turned on. If all 4 bits are 0 it implies normal service. RFC 1340 [Reynolds and Postel 1992] specifies how these bits should be set by all the standard applications. RFC 1349 [Almquist 1992] contains some corrections to this RFC, and a more detailed description of the TOS feature. file:///D|/Documents%20and%20Settings/bigini/Docum.../homenet2run/tcpip/tcp-ip-illustrated/ip_inter.htm (2 of 19) [12/09/2001 14.46.37] Chapter 3. IP: Internet Protocol Figure 3.2 shows the recommended values of the TOS field for various applications. In the final column we show the hexadecimal value, since that's what we'll see in t...
View Full Document
This test prep was uploaded on 04/04/2014 for the course ECE EL5373 taught by Professor Guoyang during the Spring '12 term at NYU Poly.