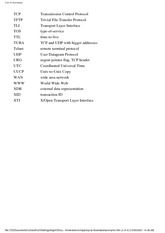 This is the end of the preview.
Sign up
to access the rest of the document.
Unformatted text preview: nterface, le0 ipAdEntNetMask.127.0.0.1=255.0.0.0 ipAdEntNetMask.140.252.1.29=255.255.255.0 ipAdEntNetMask.140.252.13.33=255.255.255.224 ipAdEntBcastAddr.127.0.0.1=1 all three use one bits for broadcast ipAdEntBcastAddr.140.252.1.29=1 ipAdEntBcastAddr.140.252.13.33=1 ipAdEntReasmMaxSize.127.0.0.1=65535 ipAdEntReasmMaxSize.140.252.1.29=65535 ipAdEntReasmMaxSize.140.252.13.33=65535 The interface numbers can be compared with the output following Figure 25.18, and the IP addresses and subnet masks can be compared with the values output by the ifconfig command in Section 3.8. The next table, Figure 25.23, is the IP routing table. (Recall our description of routing tables in Section 9.2.) The index used to access each row of the table is the destination IP address. Figure 25.24 is the IP routing table on the host sun obtained with the dump ipRouteTable command using snmpi. We have deleted all five of the routing metrics, since they are all -1. In the column headings we've also removed the prefix ipRoute from each variable name. IP routing table, index = < ipRouteDest > Name ipRouteDest Datatype R/W lpAddress * Description Destination IP address. A value of 0.0.0.0 indicates a default entry. * Interface number: ifIndex. ipRouteMetricI INTEGER * Primary routing metric. The meaning of the metric depends on the routing protocol (ipRouteProto). A value of -1 means it's not used. ipRouteMetric2 INTEGER * Alternative routing metric. IpRouteMetric3 INTEGER * Alternative routing metric. IpRouteMetric4 INTEGER * Alternative routing metric. ipRoutelfIndex INTEGER IpRouteNextHop IpAddress * IpRouteType INTEGER * IP address of next-hop router. Route type: 1 = other, 2 = invalidated route, 3 = direct, 4 = indirect. file:///D|/Documents%20and%20Settings/bigini/Doc...omenet2run/tcpip/tcp-ip-illustrated/snmp_sim.htm (20 of 33) [12/09/2001 14.47.40] Chapter 25. SNMP: Simple Network Management Protocol IpRouteProto IpRouteAge Routing protocol: 1 = other, 4 = ICMP redirect, 8 = RIP, 13...
View Full Document
This test prep was uploaded on 04/04/2014 for the course ECE EL5373 taught by Professor Guoyang during the Spring '12 term at NYU Poly.