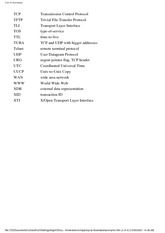 This is the end of the preview.
Sign up
to access the rest of the document.
Unformatted text preview: ress? 3.6 Why do you think the MTU of the loopback interface printed in Section 3.9 is set to 1536? 3.7 The TCP/IP protocol suite is built on a datagram network technology, the IP layer. Other protocol suites are built on a connection-oriented network technology. Read [dark 1988] to discover the three advantages the datagram network layer provides. file:///D|/Documents%20and%20Settings/bigini/Docu...homenet2run/tcpip/tcp-ip-illustrated/ip_inter.htm (19 of 19) [12/09/2001 14.46.37] Chapter 4. ARP: Address Resolution Protocol ARP: Address Resolution Protocol 4.1 Introduction The problem that we deal with in this chapter is that IP addresses only make sense to the TCP/IP protocol suite. A data link such as an Ethernet or a token ring has its own addressing scheme (often 48-bit addresses) to which any network layer using the data link must conform. A network such as an Ethernet can be used by different network layers at the same time. For example, a collection of hosts using TCP/IP and another collection of hosts using some PC network software can share the same physical cable. When an Ethernet frame is sent from one host on a LAN to another, it is the 48-bit Ethernet address that determines for which interface the frame is destined. The device driver software never looks at the destination IP address in the IP datagram. Address resolution provides a mapping between the two different forms of addresses: 32-bit IP addresses and whatever type of address the data link uses. RFC 826 [Plummer 1982] is the specification of ARP. Figure 4.1 shows the two protocols we talk about in this chapter and the next: ARP (address resolution protocol) and RARP (reverse address resolution protocol). Figure 4.1 Address resolution protocols: ARP and RARP. ARP provides a dynamic mapping from an IP address to the corresponding hardware address. We use the term dynamic since it happens automatically and is normally not a concern of either the application user or the system administrator. RARP is used by syst...
View Full Document
This test prep was uploaded on 04/04/2014 for the course ECE EL5373 taught by Professor Guoyang during the Spring '12 term at NYU Poly.