This preview shows page 1. Sign up to view the full content.
View Full Document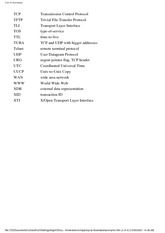 This is the end of the preview.
Sign up
to access the rest of the document.
Unformatted text preview: differences between each timeout interval we see a doubling effect: from 5.34 to 6.55 is 1.21 seconds, from 6.55 to 8.97 is 2.42 seconds, from 8.97 to 13.80 is 4.83 seconds, and so on. When the timeout interval reaches some limit (greater than 42.80 seconds) it's reset to 5.34 seconds. Increasing the timeout value like this is a better approach than using the same value each time. In Figure 6.8 we'll see one wrong way to perform timeout and retransmission, and in Chapter 21 we'll see TCP's method. 5.4 RARP Server Design While the concept of RARP is simple, the design of an RARP server is system dependent and complex. Conversely, providing an ARP server is simple, and is normally part of the TCP/IP implementation in the kernel. Since the kernel knows its IP addresses and hardware addresses, when it receives an ARP request for one of its IP addresses, it just replies with the corresponding hardware address. RARP Servers as User Processes The complication with an RARP server is that the server normally provides the mapping from a hardware address to an IP address for many hosts (all the diskless systems on the network). This mapping is contained in a disk file (normally /etc/ethers on Unix systems). Since kernels normally don't read and parse disk files, the function of an RARP server is provided as a user process, not as part of the kernel's TCP/IP implementation. To further complicate matters, RARP requests are transmitted as Ethernet frames with a specific Ethernet frame type field (0x8035 from Figure 2.1.) This means an RARP server must have some way of sending and receiving Ethernet frames of this type. In Appendix A we describe how the BSD Packet Filter, Sun's Network Interface Tap, and the SVR4 Data Link Provider Interface can be used to receive these frames. Since the sending and receiving of these frames is system dependent, the implementation of an RARP server is tied to the system. file:///D|/Documents%20and%20Settings/bigini/Docum.../homenet2run/tcpip/tcp-ip-illustrated/rarp_rev.htm (4 of 5) [12/09/2001 14.46.40] Chapter 5. RARP: Reverse Address Resolution Protoco...
View Full Document
This test prep was uploaded on 04/04/2014 for the course ECE EL5373 taught by Professor Guoyang during the Spring '12 term at NYU Poly.