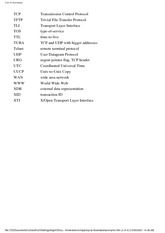 This is the end of the preview.
Sign up
to access the rest of the document.
Unformatted text preview: OS 4.1.3 E.3 System V Release 4 E.4 Solaris 2.2 E.5 AIX 3.2.2 E.6 4.4BSD Appendix F. Source Code Availability Acronyms You can write to the designer of this page. All critics are welcome. file:///D|/Documents%20and%20Settings/bigini/Documenti/homenet2run/tcpip/tcp-ip-illustrated/index.htm (9 of 9) [12/09/2001 14.46.27] Preface Preface Introduction This book describes the TCP/IP protocol suite, but from a different perspective than other texts on TCP/IP. Instead of just describing the protocols and what they do, we'll use a popular diagnostic tool to watch the protocols in action. Seeing how the protocols operate in varying circumstances provides a greater understanding of how they work and why certain design decisions were made. It also provides a look into the implementation of the protocols, without having to wade through thousands of lines of source code. When networking protocols were being developed in the 1960s through the 1980s, expensive, dedicated hardware was required to see the packets going "across the wire." Extreme familiarity with the protocols was also required to comprehend the packets displayed by the hardware. Functionality of the hardware analyzers was limited to that built in by the hardware designers. Today this has changed dramatically with the ability of the ubiquitous workstation to monitor a local area network [Mogul 1990]. Just attach a workstation to your network, run some publicly available software (described in Appendix A), and watch what goes by on the wire. While many people consider this a tool to be used for diagnosing network problems, it is also a powerful tool for understanding how the network protocols operate, which is the goal of this book. This book is intended for anyone wishing to understand how the TCP/IP protocols operate: programmers writing network applications, system administrators responsible for maintaining computer systems and networks utilizing TCP/IP, and users who deal with TCP/IP applications on a daily basis. Organization of the Book The following figure...
View Full Document
This test prep was uploaded on 04/04/2014 for the course ECE EL5373 taught by Professor Guoyang during the Spring '12 term at NYU Poly.