This preview shows page 1. Sign up to view the full content.
View Full Document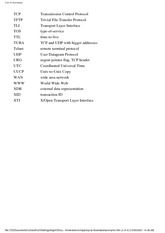 This is the end of the preview.
Sign up
to access the rest of the document.
Unformatted text preview: nnection. 2. Headers are used by the user agents. We saw nine header fields in our example: Received, Message-Id, From, Date, Reply-To, X-Phone, X-Mailer, To, and Subject. Each header field contains a name, followed by a colon, followed by the field value. RFC 822 specifies the format and interpretation of the header fields. (Headers beginning with an X- are user-defined fields. The others are defined by RFC 822.) Long header fields, such as Received in the example, are folded onto multiple lines, with the additional lines starting with white space. 3. The body is the content of the message from the sending user to the receiving user. RFC 822 specifies the body as lines of NVT ASCII text. When transferred using the DATA command, the headers are sent first, followed by a blank line, followed by the body. Each line transferred using the DATA command must be less than 1000 bytes. The user agent takes what we specify as the body, adds some headers, and passes the result to the MTA. The MTA adds a few headers, adds the envelope, and sends the result to another MTA. The term content is often used to describe the combination of headers and the body. The content is sent by the client with the DATA command. Relay Agents The first line of informational output by our local MTA in our example is "Connecting to mailhost via ether." This is because the author's system has been configured to send all nonlocal outgoing mail to a relay machine for delivery. This is done for two reasons. First, it simplifies the configuration of all MTAs other than the relay system's MTA. (Configuring an MTA is not simple, as anyone who has ever worked with Sendmail can attest to.) Second, it allows one system at an organization to act as the mail hub, possibly hiding all the individual systems. In this example the relay system has a hostname of mailhost in the local domain (.tuc.noao.edu) and all the individual systems are configured to send their mail to this host. We can execute the host com...
View Full Document
This test prep was uploaded on 04/04/2014 for the course ECE EL5373 taught by Professor Guoyang during the Spring '12 term at NYU Poly.